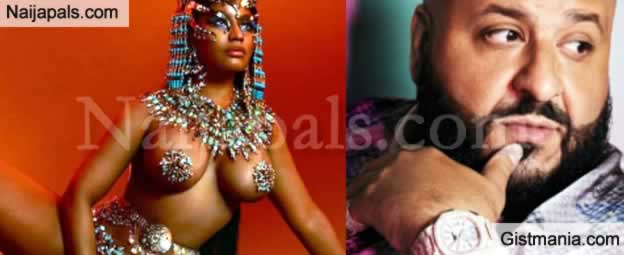 Nicki Minaj disses DJ Khaled on her track 'Barbie Dreams,' following Khaled's comment that he refuses to give oral sex:
"Had to cancel DJ Khaled, boy we ain't speaking. Ain't no fat n*gga telling me what he ain't eating." _
Nicki delivers her own version of The Notorious B.I.G.'s "Just Playing (Dreams)," the legendary rapper's 1994 song where he rapped about all the R&B singers he wanted to have sex with. Lil' Kim famously rehashed the idea on her 1996 Hardcore track "Dreams," as did 50 Cent on 1999's "How to Rob."
On "Barbie Dreams," Nicki raps about fantasy sexual encounters with many rappers, most of whom she's previously collaborated with or is friendly with. The first verse finds her clowning on her longtime Young Money labelmate #Drake as well as his rival (and her former boyfriend) #Meek Mill:
"Drake worth a hundred milli, always buying me shit But I don't know if the honeypot wet or if he cryin & shit Meek still be in my DMs, I be having to duck him . I used to pray for times like this Face ass when I phyuk him"
A few lines later, she raps about #YoungThug's gender-bending fashion sense: Used to phyuk with #YoungThug, I ain't addressing this shit I caught him in my dressing rooms stealing dresses and shit
She kicks off the second verse with a bar about Desiigner: "I remember when I used to have a crush on Special Ed Shoutout Desiigner, 'cause he made it out of special ed"
She even saves some lines for #6ix9ine, whom she recently collaborated with on "#FEFE" '6ix9ine said he wanna menage. I said tre-way Curved him and went the Kim and Kanye way"
Elsewhere on the song, she mentions Fetty Wap, YG, Young M.A, Lil Uzi Vert, Odell Beckham Jr., and more. Although fans will surely have divided opinions about individual shots on the song, the spirit of "Just Playing (Dreams)" is about name-checking fellow artists in a non-serious way. It's worth noting, however, that Biggie eventually apologized to both Pattie LaBelle and Xcape's Kandi Buress for his lyrics about them on his song..